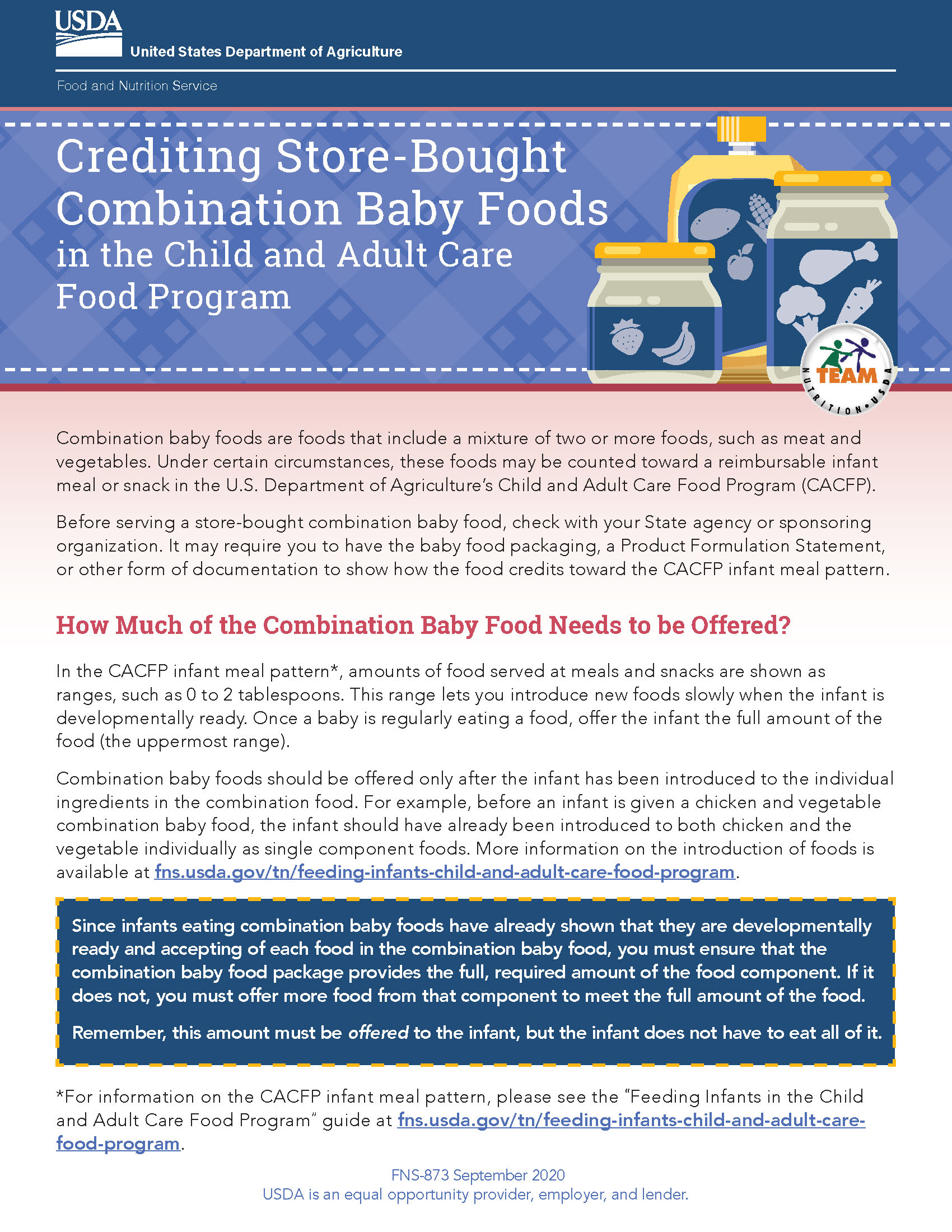 Here are a few foods that do NOT count on the CACFP for infants:
Pudding

Custard

Cobbler

Fruit Desserts

Honey

Cheese Foods

Cheese Substitutions

Cheese Spreads

Cheese Spread Substitutes

Imitation Cheese

Cheese Products

Cream Cheese

Eggs Whites



Egg Yolks

Nuts

Peanut butter

Seeds

Soy yogurt

Juice, even 100% juice

Fruit drinks/fruit punch

Fruit snacks

Cakes

Cookies

Farina

Grits

Oatmeal
If none of the ingredients are creditable, then the food does not count. As long as there is at least one ingredient that might be creditable, continue on to step 2.
If all the ingredients are in the same food group, then you can serve the food.

Infants who are 6-11 months old and developmentally-ready need 2 Tbsp of fruit and/or vegetable at every meal and snack.
Infants who are 6-11 months old and developmentally ready for solid foods need 4 Tbsp of infant cereal or a meat/meat alternate at breakfast, lunch and supper.

*Remember that the fruit and vegetable food groups are combined for infants. So if a baby food has both fruit and vegetables, then that still counts as being from the same food group.

If the food is a mix of two food groups, like chicken and sweet potatoes, then you need to do look for more information on the label.
For foods that have ingredients from two different food groups, you need to get the volume of each ingredient in order for the food to count. Typically this means that the package says how many tablespoons of each ingredient are in the package. Sometimes they list it as a percentage and you have do some extra math by multiplying the ingredient percentage by the volume of the package.

If the ingredients are not listed in volume on the package, your only recourse is to get a Product Formulation Statement from the manufacturer. Otherwise, the food cannot count on the CACFP because there is no way to determine how much to serve an infant.

To help make this easier, the registered dietitian at My Food Program reviewed the websites of Gerber, Beechnut and Earth's Best Organic baby food and determined if each baby food could count or not. Remember that formulations and information change, so be sure to confirm the information we are providing before serving the food.